The Overhead Garage Door Co. is a full service garage door company that installs, maintains, and repairs garage doors and all garage door parts. A leading company, expert in providing residential garage door service, we are backed up with years of experience in the field with certified technicians. We carry all the major garage door related brands to meet the different preferences of our clients. If it is a garage door or garage door part, then rest assured that it is something that we have and can install, maintain, and fix.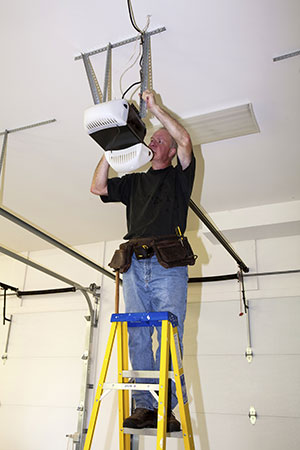 So what exactly is garage door service? At Overhead Garage Door Co., it is our business.
We start by carrying name brand products by:
Liftmaster
Genie
Marantec
Chamberlain
Sears
Craftsman
We have garage doors, garage door openers, garage door remotes and garage door replacement parts. We offer installation services as well as part of our expert garage door repair service. The hallmark of a good garage door service company is its repair service. For Overhead Garage Door Co. we know that means being available whenever our clients need emergency garage door services and be able to address all concerns in one visit. Anything defective in the house can give us stress and causes us to worry. However, when it comes to garage door a malfunction or you are unable to access your home garage, we will be more than willing to take that off your mind.
At Overhead Garage Door Co. we also offer same day garage door service repair. Not all jobs are an emergency, but when you have a garage door malfunction, you generally want it taken care of right away. We can accommodate that for you. Some of the services we offer in the category of same day are service garage door opener, broken garage door spring service, and garage door cable repair.
When it comes to servicing garage doors, the key to success is regular maintenance. At Overhead Garage Door Co., we know that our most valuable job lies in our garage door maintenance service. We can set you up on a regular maintenance plan that includes a safety evaluation as well as replacement of parts that generally wear like garage door springs and cables. We will check your track and your opener to ensure that your system works smoothly every time you press your remote. We can help you avoid unnecessary costs and unwanted emergency garage door problems. All these that may hamper your mobility and cause inconvenience, but do not worry because we can take care of them for you.
As a garage door service company that values your business, we here at the Overhead Garage Door Co. strives to have high quality products and professional, certified staff that are highly trained and skilled to meet any garage door challenge. Whether you need Genie service, Liftmaster service, or any other brand, we want you to call upon us with confidence. The next time you find yourself standing in your garage, needing garage door service call a professional garage door service. Call Overhead Garage Door Co. We pledge to be there when you need us with the right products, the rite tools, the most skilled staff, and the lowest price.