Garage door springs are simply springs. The only difference is that they are of a large size and much stronger than springs used in simpler applications. Their coils extend when the door is in its full closing position. At this point, springs are completely stretched keeping their energy stored. They automatically release this energy when people press their clicker to open the door. Without this energy springs provide, the door wouldn't move. They are the most significant parts and also the most dangerous ones all due to this energy of theirs.
As the most crucial parts, springs need our service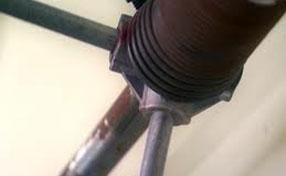 All garage doors need their own springs. Since springs literally are the most vital parts for the actual lifting and lowering down of the door, their power must be equivalent of the weight of the door. When the technicians of "Garage Door Repair North Highlands" install extension springs, they make sure the sum of the two springs together adds up to the door's weight. We give attention to such things or the springs won't last for long.
They usually last for about ten thousand cycles – each cycle is the full movement of the door up and down. Since extension springs for garage doors must have sufficient power for the door's weight, we change them both when one of them is broken.
Garage door springs balance the door so that it will be lifted and lowered evenly. In a different case, we balance the door by adjusting springs. We also pay attention to their installation. Although most doors need extension garage door springs, some heavier ones would require a torsion spring. Most springs of either type are similar with slight differentiations in the way coils are manufactured. Some coils are in contact with each other and some separated by few inches. Clopay has manufactured the EZ-set springs that are easier to install. Since springs must be chosen with precision to the requirements of the door, we always measure them accurately first. Due to their high tension, they can be dangerous if they snap. Consequently, we suggest trusting Garage Door Repair North Highlands for spring garage door repair and replacement.